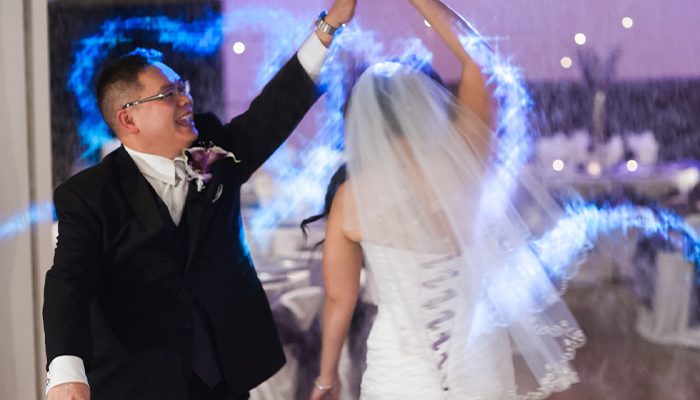 FogScreen Wedding Special Effect
♥ Disney Themed Wedding for Carolyn & Alex
Most wedding receptions are beautifully decorated and the guest's first impressions of the dinner reception room are typically favorable, but when a Fogscreen special effect is set up as the reception room entrance, it's a whole new ball game. Watch the party begin!
Guests are overjoyed and mesmerized when they experience the FogScreen, because they've never seen anything like it before. They instantly begin taking video and photos to post and share on social media with all of their friends and family. It's a blast to watch, and the bride and groom love seeing all of the excitement and joy it brings to their guests.
Carolyn and Alex also created their own wedding #HASHTAG and asked all of their guests to tag their photos and video with it. This was just one of the many fun elements they incorporated into their celebration, and their guests couldn't get enough of it.
Carolyn's table #'s were of all of the most famous Disney couples, and she wanted a real Fairytale / Disney like wedding. These magical photos below capture such a beautiful moment when it looks like tinker bell sprinkled her magical pixie dust in the air as Alex twirled her around. It's a Disney lover's dream.
All you need is Faith, Trust, and a little Pixie Dust
Peter Pan
The Bella Sera Event Center rents this FogScreen for both onsite and offsite events, whether for personal or business uses. It is always a crowd pleaser, an instant attraction, and is guaranteed to make viewers pull out their cameras and show it to everyone they know.
Check out more information about the FogScreen at www.BellaSpecialEffects.com
Written by Elisabeth Montoya – Co-owner of The Bella Sera Event Center and Bella Special Effects