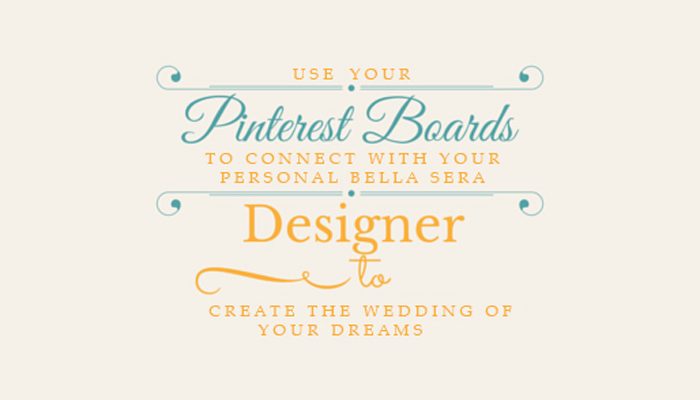 …Ready, Set, Pin
A lot has changed in the past 11 years since The Bella Sera Event Center's team planned and designed the first wedding at our venue. One of the biggest innovations to have a positive impact on our industry in the past 5 years was the launch of Pinterest in March of 2010.
Did you know that your Pinterest board is very helpful to your personal Bella Sera Designer?
Your Bella Sera Event Designers are constantly looking for ways to get to know you and your personal wedding style, as well as add value to and simplify wedding planning and designing for our couples! Prior to your design session, your Pinterest boards are a great tool to help us get a sense of your own personal style for your dream wedding!
Here's how you can use Pinterest to help connect with our Designers:
Specify Your Wedding Boards: Making a board JUST for cake styles, JUST for wedding attire, JUST for lighting, JUST for floral accents, JUST for ceremony backdrops, etc… is a great way to show us exactly what you like!
Pin Whatever You Like: Seriously! And be sure to have fun with it! This is all part of the process of figuring out exactly what the overall style of your wedding will be. Once you've created some boards, 'shop' around a bit on the internet and simply pin the things you like onto your coordinating boards. Believe it or not, a theme will start to develop!
Leave Us Notes: While you're pinning, you can leave notes beneath the items that you are pinning to tell us why you liked them or what specifically you liked about the image and how you might like to see those ideas transpire on your wedding day.
Peruse Our Boards!: Don't be shy!We'd love for you to spend some time looking at our latest and greatest! Like, repin & tell us what you love on our boards!
Share Your Username: Connect with us directly on Pinterst or send us your username when we set up your design session! Remember, your Pinterest username may not be just your name! Be sure to copy and paste your username directly from your Pinterest URL (pinterest.com/username)
So if you haven't already, sign up for Pinterest, create some boards and get to pinning! We promise you'll become addicted, and have fun at the same time by visually seeing all of your inspirations in one spot.