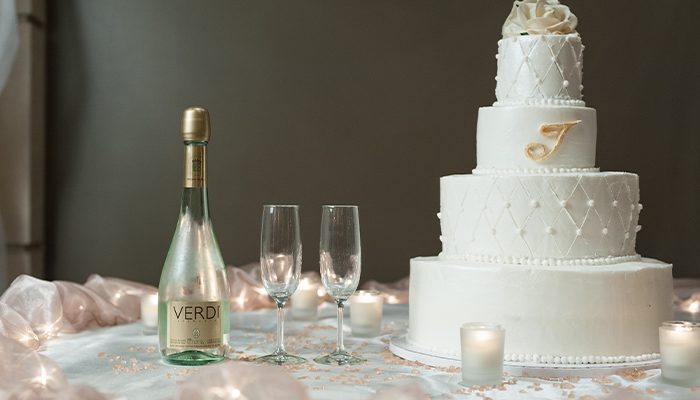 13 Unique Wedding Cake Ideas Tailored to Your Wedding Month
One of the biggest things our clients tell us is that they want a unique and beautiful wedding cake. They have spent hours planning their perfect day, organizing guests lists, and ordering invites – The last step? Designing their wedding cake! Brides want the wedding cake to fit their theme, but also fit the season of their wedding month!
To help you in your designing process, we've laid out 13 (because a baker's dozen!) unique wedding cakes that tie perfectly to your wedding month!
A Wedding Cake for Every Month:
January – New Year's Resolution Cake!
We love this cake's fun, flirty look! The new year symbolized a time of rejuvenation and a chance at a better year than the previous one. This cake sums up JANUARY just perfectly. The blue and purple icing tie perfectly to a winter wedding them, and the gold bow is perfect for "your golden year".
February – The month of Love Cake!
February is the month of love! It's also a perfectly positioned month to get married, as everyone has settled down from the holidays and the cold winter months are almost over. Weddings are an amazing opportunity for your loved ones to reflect on their own relationship and secretly renew their own vows during your ceremony. A classy black-tie wedding (and wedding cake) are just the ticket for a guaranteed night of fun!
Check out our recent wedding post detailing Why Guests LOVE February Weddings!
March – The month of Fresh Flowers
March is a gorgeous month fresh flower weddings! With spring quickly approaching, your guests are excited at the new season of growth ahead. We love this amazing orange, floral cake for a beautiful March wedding! The flowers are lightly placed, ensuring people don't get confused with a summer wedding, and the bright color is just a teaser for the season ahead.
April – Little White Dress Wedding Cake
April is often recognized as a "clean" month! Spring cleaning has begun and guests are enjoying the afternoon showers that bring a sweet smell after they pass. We love this little white cake, complete with a champagne rose top. It's light and airy, just like the beautiful spring wedding your guests are eagerly awaiting!
May – A little Love Goes a Long Way
We are obsessed with this feminine and playful cake designed for a May wedding! The light color palette and gorgeous shape make this cake every May Bride's dream cake. You guests will "ooh" and "ahh" over this stunning addition to your reception.
June – Ombre, Like Your Favorite Summer Dress
We chose this ombre wedding cake as "June" because of its likeness to a beautiful summer day. The bright blue chosen for this particular cake is a perfect match for summer oranges, pinks, and purples. The ombre design is unique and can be dressed up with glitter, or down with ribbon and pearls.
July – Summer Chic
This wedding cake is just breathtaking. It's elegant, fabulous, and would go perfectly with a summer strapless wedding dress. The tiny details on the cake take the classiness to the next level and add an element of elegance that would overwhelm a more elaborate cake. We think you'll find this July cake chic, classy, and perfect for your wedding!
August – Purple EVERYTHING!
August is the month of purple! Many of our brides choose purple as their wedding theme, because it's a great "transitional" color. The darker pigments resemble upcoming fall colors, but the playfulness in different shades allow them to tailor it to their them. Purple is one of those colors that gets chosen as a main wedding color, so adding hints of it to your wedding cake will tie it all together without overwhelming the look!
Check out our Lighting Your Night Post for step by step instructions on incorporation PURPLE into your wedding!
September – Jaw Dropping Like Fall Leaves
This wedding cake speaks for itself. It's just stunning – jaw dropping, if you will. The gorgeous orange and blue color scheme is perfect for a September wedding (especially if you live in Denver and root for the Broncos!). The cake is elegant, yet fun, because of its composition. The hanging aspect of the cake ads a level of interest that most guests don't get to see. The design is unique and glamourous, just like our September brides!
October – Colder Nights
October is the perfect month to commit to a fall theme! Halloween is just around the corner and everyone is starting to get excited for the holidays. We love this cake that draws inspiration for Denver's changing seasons. The empty vines are elegant and eye-catching and guests always love seeing a cake that reminds them the seasons are changing and nights are getting colder. There's a coziness this cake brings out; we can't explain it!
November – All Bundled Up

We love this formal, elegant tiered cake for November weddings. The theme? Black Tie. It's starting to really get cold and guests will appreciate a reason to wear long dresses and tuxedos (with coats!). The cake is classic and the clean lines help mirror the formality of your event!
December – 2 for the Price of One!
It's the holiday's, so we thought we'd go the extra mile and give you two options for your December cake! We LOVE Champagne themed cakes for December. Whether you are having a holiday/winter themed event, or a New Year's Eve wedding… You can't go wrong with a champagne colored cake!