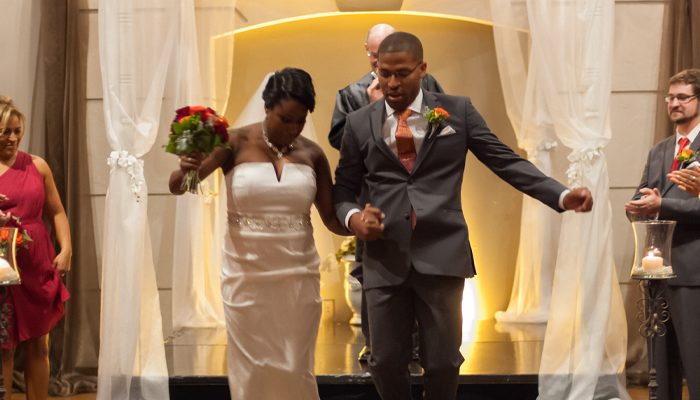 The Ultimate Wedding Ceremony Checklist
∴
You won't forget ANYTHING with this comprehensive wedding ceremony checklist!
Keep this valuable checklist in your wedding binder, check off items and tasks as you've completed them or omit items you don't want to include. Created by our wedding pros as a helpful tool to minimize the stress brides often feel when planning their wedding because they didn't have a thorough checklist for their ceremony. You're guaranteed to eliminate hours of stress trying to remember every little detail for your ceremony, as well as improving the quality of your ceremony with this wedding ceremony checklist.
Begin with the Top 10 most critical wedding ceremony checklist items:
_____1) Once your date is chosen, set a total budget for your ceremony
_____2) Decide how many guests you will invite to the ceremony vs. reception
_____3) Choose a church or venue that best matches your dream ceremony – read the venue contract thoroughly so you know what you can & cannot do before signing
_____4) Set up a plan and outline for how you want your ceremony to flow, what décor you envision, and what, and who you want to be included:
Decide what time you want your ceremony to begin. Get advice from your venue.
Decide in advance if you will allow guests to photograph your ceremony; remember that you hired a professional photographer and you may not want everyone's cell phone screens in all of your pictures.
Establish the flow of the ceremony – a beginning, middle and end
Choose the overall style, colors, and look and feel you want for decor
Decide on your music selections – don't leave until the last minute
Processional and Recessional plans will need to be decided
Wedding party – who will be your best man, maid of honor, bridesmaids, groomsmen, flower girl(s), ring bearer(s), reader, etc.
_____5) Choose An Officiant / Celebrant, and pay their deposit to secure them
Friend or family member
Justice of the Peace
Minister
Pastor
Priest
Rabbi
_____6) Hire a Ceremony/Wedding Coordinator – may be included with your venue
_____7) Choose a set up & tear down crew & plan –chairs, tables, coordinator & décor
_____8) Meet with your officiant to get to know each other and plan out the details
_____9) Meet or talk with your DJ to discuss music; do not leave this to the last minute
_____10) Find out when rehearsal time options are from your venue so you can alert
your out of town wedding party members before making their flight plans
Comprehensive Ceremony Checklist
_____A Greeter at the door or ceremony entrance to greet guests and direct them
_____Aisle Decorations and aisle runner (include tape or weights to secure runner)
_____Altar decorations
Backdrop
Canopy
Chuppa
Fabric / Draping
Flowers, vines, greenery
Lighting
_____Attire for officiant – Remember, your officiant will be in all of your pictures; will they allow you to recommend certain attire and colors for them to wear?
_____Broom – for the jump the broom ritual
_____Bubbles, rice, confetti – find out what's allowed
_____Chairs
Chair coverings for chairs
_____Delivery charges for any rental items that must be brought in
_____DJ – pay deposit, ask if they attend the rehearsal or if that is extra
Microphones – stand or lapel
Music during the ceremony (sand ceremony or unity candle or other)
Pre-ceremony music while guests are being seated
Processional and Recessional music (entrances and exits)
_____Flowers / Petals
Boutonnieres for fathers, stepfathers, grandfathers and groomsmen
Bride's bouquet
Bridesmaids bouquets
Corsages for mothers, stepmothers and grandmothers
Fresh flower arrangements for aisle or aisle chairs
Fresh flower arrangements for altar
Petals for the flower girl(s)
_____Flower girl(s) (who will purchase their dresses?)
Flower girl basket(s)
Wagon and Décor for wagon (if pulling a baby down aisle)
_____Gift table
Card box or other item for cards from guests
Linen for gift table
_____Guest book table
Décor for guest book table – candles, pictures, flowers, programs, etc.
Escort cards or place cards (sometimes these are on this table)
Guest book, photo album, signature matt or other item for guests to sign
Linen for guest book table
Pen for guest book
_____Handicap accessibility plan and proper seating arrangement set up
_____Lighting – up lighting or romantic lighting
_____Marriage license
_____Memory table to honor those who have passed
Candles
Flowers
Pictures in frames
Linen for memory table
Signage
_____Microphone for officiant, singers, musicians
_____Monogram for the wall or floor
_____Musicians
Chairs, music stands, microphone, sound system or DJ, time for arrival
_____Parking – be sure there is plenty of parking for guests
_____Pen to sign the marriage license
_____Personal touches – other special and unique ideas you want to incorporate
_____Photographer
_____Podium for your officiant
_____Prayers or scriptures you choose to have read at the ceremony
_____Programs – can be formal or fun and entertaining also
_____Reader(s)
_____Rehearsal time, location and coordinator to practice the ceremony
_____Rental items – misc. items you choose to personalize your ceremony
_____Ring bearer(s) – (who will purchase their suit or tuxedo?)
Fake rings for the ring bearer pillow
Ring bearer pillow(s)
Signage "Here comes the bride", etc.
Wagon and Décor for wagon (if pulling a baby down aisle)
_____Rings / wedding bands
_____Rituals and other spiritual items; what items are needed for those rituals?
_____Sand ceremony items
Colored sands
Main vase or decanter
Small vases for colored sands
Table for sand ceremony set up
Linen for table
_____Seating arrangements – family & reserved seats. Figure this out in advance to minimize stress, especially if parents are divorced and you want everyone to feel special
_____Shawls or blankets, if ceremony is held outside during fall and winter months
_____Signage – directing guests where to sit, coat closet, restrooms, or other
_____Signing the marriage license with 2 witnesses – during or after the ceremony
_____Singers
_____Stage or platform to slightly elevate you above guests
_____Tissue – for the couple, parents and grandparents
_____Transportation
Car
Horse & carriage
Limo
_____Umbrellas, Sunscreen, hand held fans for outdoor ceremonies
_____Unity candle ceremony items
Candles
Candle holders
Lighter
Linen for table
Table
Votive candle
_____Ushers
_____Videographer
_____Vows – you can write out your personal vows and read to each other or have your officiant read them for you to repeat; holding notecards is acceptable for reading.
_____Water or beverages for your guests
_____Wedding party, what order they will enter and stand, duties, etc.?
Best man to carry rings and Maid of honor to hold brides bouquet during ceremony and straighten bride's train on her gown
_____Wow Factors – does your venue offer something unique that guests may have never experienced before, a décor item that will have them speechless, a fun program that educates and entertains them? Remember your ceremony and the rituals you choose are symbolic, represent who you are, and the reason for the celebration; spending time to create the type of ceremony you want will create lifetime memories.
Written by Elisabeth Montoya – Designer/Co-owner of The Bella Sera Event Center
Brighton, CO
www.TheBellaSera.com
Venue: The Bella Sera Event Center
Photo by Mark Alison Photography