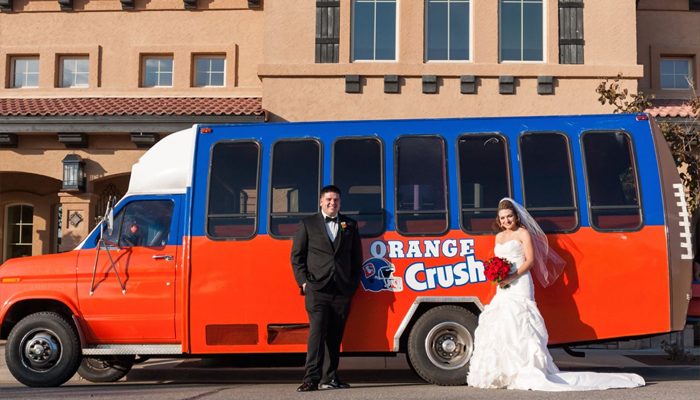 7 Secrets to Creating a Fun Wedding
Everyone Wants to Have a Fun Wedding
Having fun doesn't mean it has to be a drunk fest or everyone getting out of hand at your wedding. However, fun doesn't just magically happen because you hire a DJ either. Here are some tried and true ways The Bella Sera Event Center has helped our couples create fun elements throughout their celebrations.
1) Put yourself in your guests shoes.
Wedding celebrations run for many hours; think about what you yourself think is fun to do.
What does it take to create the type of fun wedding you want your guests to enjoy? Do you enjoy having a nice cocktail? Tasting delicious appetizers? Experiencing something you've never seen before? Dancing to great music? Taking funny photos with your friends? Laughing? Sharing a special time with close friends and family?
On the flip side…Do you think it's fun to sit around for long periods of time with nothing to do? Paying for your own drinks during the long cocktail hour? Sitting next to people you don't know for more than 3 or 4 hours?
When you take your guest experience into consideration over the long celebration (sometimes 5 – 7 hours), it's easier to budget and plan for those things that will delight your guests.
2) Choose the perfect DJ, because your DJ is one of the keys to having a fun wedding.
DJ's can be the hit of the party with every guest enjoying every minute, or the reason many guests leave early and consider your wedding just another typical wedding. When choosing your DJ, think of the outcome you want first. Don't choose your DJ simply because you were given a discount; many times you get what you pay for. Hire a creative DJ who has a great personality, a top-notch sound system, creative ideas, and a music plan that matches your style to keep everyone on the dance floor all night. You only have one shot at your once-in-a-lifetime celebration; you don't want to have any regrets.
3) Keep guests happy during the long cocktail hour.
Everyone goes to a wedding hoping to sample delicious food and beverages as they celebrate the marriage of their close friends. The cocktail hour is the one time your guests will feel that the celebration is stagnant and boring f they have to sit around for an hour with nothing to do. Formal picture taking and bustling the brides dress before dinner takes an average of 60 – 90 minutes, so imagine how your guests feel if there is no food served and they have to pull out their wallets for a drink. When setting up your budget, plan for a few appetizers for each guest as well as complimentary beer and wine during this one-hour. Even one FREE drink ticket per guest is a nice way to treat your guests and say thank you for coming. You will not regret it, and your guests will appreciate your hospitality and look forward to the rest of the events that evening.
4) Surprise your guests with something unexpected.
Everyone loves surprises! How can you personalize your celebration and include something that none of your guests expected? Does your venue offer something unique and one-of-a–kind your guests have never experienced like state-of-the-art lighting, a wall of interactive fog, bubble walls, special effects of any kind or items that are suspended from the ceiling? What about a comedian during dinner or a caricature artist? One of the most popular surprises is a choreographed dance by someone in the wedding party or the immediate family. There has been many a father daughter dance that had guests roaring with laughter and excitement. Just check them out on YouTube. Ask your wedding party to prepare well-planned toasts that share stories of some fun times, create a fun slideshow that shares funny memories of your past, release dinner tables with trivia from your favorite sports team or facts about the two of you, create a unique grand entrance, or rent a photo booth and get everyone involved in the fun. These are just a few ideas.
5) Sports fan? Rent your favorite sports team van to shuttle your guests to their hotel.
Now this is fun! Who doesn't love football? Everyone will remember this ride forever.
6) Provide and interactive food station like a S'mores Bar, Mashtini Bar, Ice Cream Sundae Bar or Chocolate Fountain.
Everyone loves to roast marshmallows, pile their ice cream sundae up as high as they can, and indulge in chocolate. After a long night on the dance floor, guests love these special treats.


7) Design a fun Ceremony program to entertain and educate guests.
Why not educate and entertain your guests while they sit and wait for your ceremony to begin? Get creative with your programs and the information you share. The more everyone knows about the two of you, how you met, what you love to do together, who your wedding party is, the more fun the celebration will be for them and the more they will remember the experience.
All it takes is a little creativity and some pre-planning to ensure your wedding is fun and memorable. We hope you enjoy some of these creative ideas. Bella Sera Event Center's team are masters at creating fun weddings. For more ideas on how to create a fun wedding check out our photos on our weddings page.