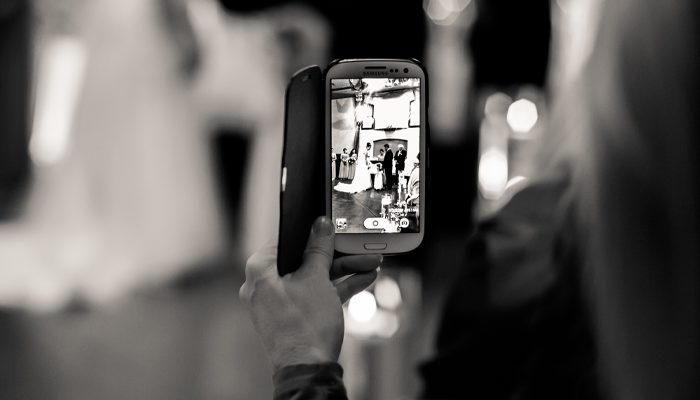 An Unplugged Wedding
An unplugged wedding, what a simplistic, charming and novel concept. But in the day and age of guests armed with cell phones and iPads that can't wait to share your special moments on Facebook, Twitter, Instagram, and Snapchat almost simultaneously as you are saying your 'I do's', an unplugged wedding is a very rare occurrence. However, the rarity of unplugged weddings doesn't take away from the importance of the idea. Taking the time to unplug, be present and actually connect with the wedding experience is important and as a couple, it is ok to ask your guests to do so. Not to mention that occasionally "guest photographers" can inadvertently compromise your professional pictures. The Bella Sera experts are always making our couples aware of the "pros and cons" of certain decisions. We have seen entire ceremony photo galleries ruined by smartphone screens in every professional photo and the occasional guest who stands up right at the "wrong" time to get their own shot, and up right in the middle of what would have been a magical shot for the wedding photographer.
There are countless ways to politely ask your guests to keep their devices tucked away during your wedding celebration. Cute and clever signs are just one option, with a simple message asking guests to please keep their phones and cameras put away during the ceremony. An officiant can also start the ceremony with a gentle request for all guests to put their phones and cameras aside for the ceremony. There are many ways to ask this of your guests, but one of our favorite announcements was a simple and thoughtful greeting. "Welcome, friends and family! Good evening, everyone. Please be seated. The couple invites you to be truly present at this special time. Please, turn off your cell phones and put down your cameras. The photographer will capture how this moment looks — I encourage you all to capture how it feels with your hearts, without the distraction of technology. If the groom can do it, then so can you." The guests all happily obliged, and even after the ceremony, many decided to remain unplugged, keep their arms down and their hearts open and enjoyed the day, instead of being an observer from behind their cameras.
But if an unplugged wedding just isn't your style, embrace your tech savvy guests and have fun with it! Use an app that will allow all of your guests to post pictures in one location so everyone can share them or even create your own unique wedding hashtag!