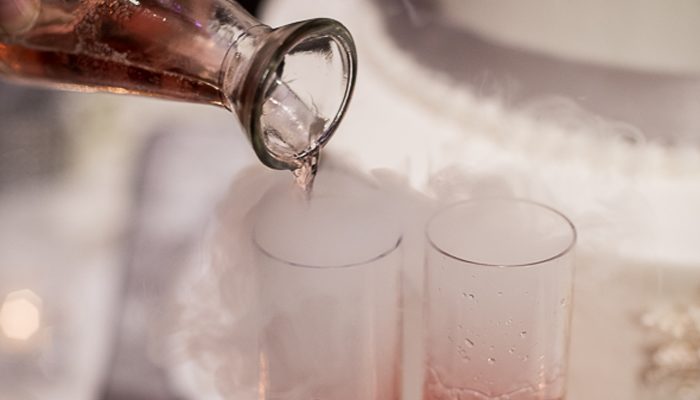 Dry Ice Wedding Toast
The Bella Sera's Smoking Dry Ice Wedding Toast is a bubbling hit!
A wedding toast is typically one of the most fun moments of the night! It is a special moment full of laughter and tears! The Bella Sera has created a unique spin on the traditional champagne toast by incorporating signature dry ice smoking cocktails!
The Bella Sera Bar has a unique system that mixes your choice of specialty cocktail and a dry ice snow to create a 'smoking' beverage with a definite wow factor for all of your guests and an extremely unique toasting experience.  The smoking reaction appeals to guests in a way that they just can't get enough of once they see it. The smoking cocktails at The Bella Sera are not just cocktails, they are an experience! They are something that is watched, enjoyed and shared!
The bartenders and event designers at the Bella Sera can work with couples to not only design a signature cocktail for the toast and to be available throughout the evening to the guests but they can also help with customized aspects such as matching the color of the cocktail to the color pallet of the wedding, recipes & the name!
The dry ice smoking cocktails create an extremely memorable moment for you and your guests. Guests love it, laugh and are amazed when they experience this one-of-a-kind smoking toast!