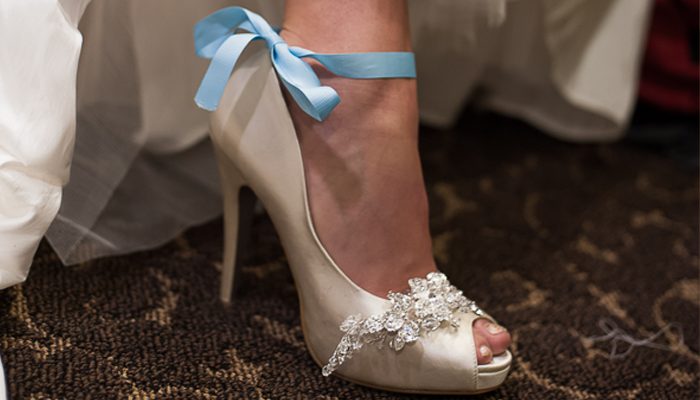 Something Blue
"Something old, something new, something borrowed, something blue, and a silver sixpence in her shoe!" This Old English rhyme is a wedding day tradition dating all the way back to the early 1800's. Each item in this rhyme represents a token of luck for the bride to be, all of which are personal mementos with close ties to the bride's heart. A special piece of borrowed jewelry, a locket with an old photo, a new pair of shoes, the possibilities are endless. Picking out these wedding day accessories is a time when the bride gets to have fun, add a touch of sentiment to her wardrobe and be creative!
Blue has been connected to weddings for centuries. In ancient Rome, brides wore blue to symbolize love, modesty, and loyalty and in many ways that is what blue is still representative of today! Something blue can be incorporated into your wedding day attire in so many ways! A new take on an old tradition can be fun! A blue heart shaped piece of fabric sewn to the inside of your wedding dress or the simple stitching of your initials or wedding date in a blue thread on your dress is a very custom and crafty way to add something blue. A blue pair of shoes can be a more bold and sassy statement to your wardrobe while a blue garter can be a much more subtle touch! Your something blue can be a splash of blue in your bridal bouquet or even an accent piece of jewelry such as a broach or hairpin. A pale blue nail polish, a royal blue crinoline slip, indigo undergarments and even a navy thread as a "place holder" for your wedding band are all fun ideas!
We are always impressed with just how creative our Bella Sera Brides can be!
Enjoy something blue!