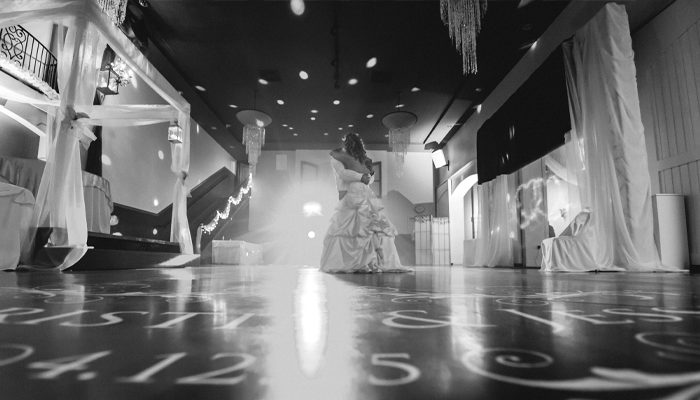 The Last Dance as Bride and Groom
It's the lasts that you long for, and remember…The Last Dance
The anticipation and expectation of events for your wedding, and all that will happen that evening, is something only the bride and groom really understand. There is so much focus on choosing the perfect music for your wedding from the first dance, to the father daughter dance, mother son dance and the "party" music. However, couples seldom think about the evening coming to an end, and what about a "last dance"? What song should be chosen for the last dance? Will your photographer still be there to capture that final moment that the two of you will cherish forever? This photograph taken by Mark Alison Photography is one of those moments, a moment in time captured forever. It is a magical photograph of the last dance of our bride and groom Christie and Jesse. The lighting, the angle, and the fact that it's just the two of them alone, makes that moment for them one that will be remembered forever.
As much as you don't want your wedding to end, you do want to create a lasting memory of that final dance together at the end of the night.
Couples put all kinds of thought into the first dance song but may forget about the last song… too often leaving the celebration ending on a, "Whoops, I guess we're out of time, time to turn up the lights now and leave," kind of note.
As for song choices, there are some classics, and well, there's nothing like Donna Summer's "Last Dance". Choosing the perfect last dance song to send you on your way guarantees you'll create the perfect musical end to your wedding.
Here are some of our favorite "Last Dance" songs:
Beautiful Day – U2
Can't Help Falling In Love – Elvis Presley
Cheers Drink To That – Rihanna
God Gave Me You – Blake Shelton
Good Night My Love – Benny Goodman and Ella Fitzgerald
I Don't Want This Night to End – Luke Bryan
(I've Had) The Time Of My Life – Bill Medley & Jennifer Warnes
Last Dance – Donna Summer
My Best Friend – Tim McGraw
New York, New York – Frank Sinatra
Save The Last Dance For Me – Michael Bublé
The Way You Look Tonight – Frank Sinatra
Then – Brad Paisley
What A Wonderful World – Louis Armstrong
You and Me – Dave Matthews Band
You Are the Best Thing – Ray LaMontagne
https://www.facebook.com/thebellasera/?fref=nf