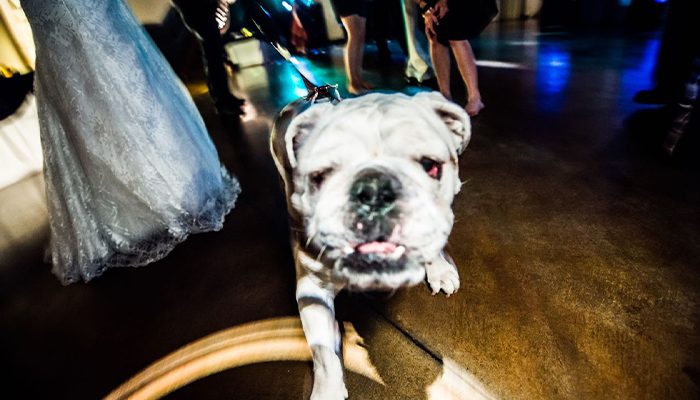 Ways to Include Your Dog in Your Wedding
♥
There are alternative ways to include your dog in your wedding besides walking them down the aisle, and possibly wreaking havoc on your guests.
For many couples their pets are like family, especially their dogs. Although many furry, lovable dogs may behave just fine walking down the ceremony aisle in a pet tuxedo wearing an adorable sign like "I loved her first", "My humans are getting married", "Dog of Honor", "Will you marry my dad?" or "Here comes my Mom", but many more doggies might just have a mind of their own and ruin what would have been an adorable moment.
If your dilemma is that your wedding just won't be complete without your pet's involvement, what about including them just for a few photos or for a part of the dance reception?
Find out if your venue is dog friendly, and if they are, have a good friend or family member bring him out to the reception where he can soak in some attention from all of your guests. Consider giving him a stationary place on the dance floor or by a family table where he can be leashed, enjoy a wedding chew toy, and enjoy the party without causing too much trouble.
Family Photos
Just look at these adorable photos of "Penelope", the bulldog, with her humans Jocelyn and Tyler at The Bella Sera Event Center. Everyone was overjoyed to see her cutting it up on the dance floor. She joined the party at the end of the night and everything went smooth. They got some "family" photos with her in their wedding attire that they will frame and put on their mantle to enjoy forever. They also created a lasting memory with all of their guests as Penelope cut it up on the dance floor and had everyone rallying around her.
Watch out, dog loose on the dance floor!
"Dogs are not our whole life, but they make our lives whole".
Roger Caras
The Bella Sera Event Center is definitely a "pet friendly" venue. We value family (including pets), and personalizing each and every celebration here, just as long as we can all get along and nobody barks at anyone else:)
What are some of the ways you want to include your dog in your wedding?
Venue: The Bella Sera Event Center
Family: Bride Joselyn, Groom Tyler, and Bulldog Penelope
Photography: Mark Alison Photography