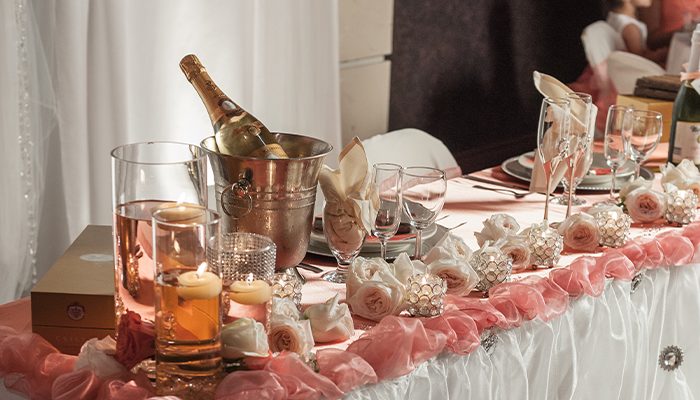 Wedding budget. Where should we spend our money?
♥
Setting your wedding budget takes much more thought than just coming up with a total number. Where you spend your money all depends on what is most important to you, and what you value most. If you've never planned an event or celebration like this before, it's best to think about the END RESULT or the outcome you want first. What do you want the outcome to be, the celebration to feel like and look like, and your guests to say at the end of the night?
In order to figure all of this out, do some research and ask yourselves some of these questions before making any decisions.
♥
Food: Is food very important to us, or important, but not at the top of the list?
Having fun: Fun doesn't just happen because you hire a DJ. What plan will you make to include fun elements throughout the celebration?
Music and dancing: Is music really important in our lives, and therefore must be a huge part of our celebration? If your answer was yes, then hiring a great DJ who knows how to read a crowd, has a great sound system, and is also an amazing Emcee will be a critical decision for you.
The Decor and Look: The décor, lighting and ambiance – how important is this and how talented are we at creating this ourselvers? Is it important for us to choose a venue that includes a designer and a lot of decor?
Cocktails: Do we want to provide a bar or partial bar for our guests?
The Guest Experience: Do we want the type of wedding celebration that flows really well, is extremely well planned and executed, fun for our guests, and is not the typical boring wedding? Have we thought about what it takes to treat our guests to a wonderful celebration overall?
Photography: Do we want amazing professional photos that will create lasting memories or are we ok with a friend doing it to save us money?
Videography: Is having a video of the whole celebration important to us?
Flowers: How important are they?
The ceremony itself: What value to we place on the actual ceremony, who marries us, and who stands up for us?
The list goes on…
Make educated decisions
To save yourself any heartache, and possible regrets, remember before you choose a venue, hire a DJ or choose your caterer, you must first figure out what you want your wedding celebration to feel like, look like, taste like, etc. Finding out what these things cost before you make any quick decisions, will be essential to you getting the end result you desire. Don't be fooled by getting FREE stuff, especially if it's for something you REALLY value, because sometimes you get what you pay for and you don't want any regrets. Look for value over price when it comes to your top 5 most important things.
Ask about offsite catering fees
Educate yourself on what fees an offsite caterer charges before you choose one. Many couples don't' realize that most offsite caterers charge three different fees: administrative fees, services fees, and gratuities, which are all separate fees over and above the food and tax. These can add up fast.
A DJ isn't there just to play music
If music is critical and the flow of your event, then make sure you hire a top-notch DJ who is also an amazing Emcee. Don't make the mistake of hiring a friend or some guy who plays great music at a club. A wedding celebration is very different than a club/party, and the whole ceremony and reception can run for 5 – 7 hours; therefore, the role of Emcee is as critical as playing great party music if you want your guests to enjoy the whole evening. The DJ can make or break your celebration.
Decor, and the look of your wedding
If décor and ambiance is very important, find photos of the décor you love, and figure out a rough estimate of what it will cost to achieve that look. As the venue you choose to show you all of the decor they include, and determine what a florist must do to make the centerpieces and ceremony look the way you want. This can add up fast.
The guest experience
If making sure your guests have a great time is important to you, determine what they enjoy and provide that for them. Remember that the cocktail hour is a critical segment of your celebration to consider when you think about creating a great "guest experience". If your guests are hungry, and there are no appetizers, or they have to pull out their wallets to buy their own drink, it typically starts the celebration off with a little bit of a let down for them.
Forever photos
While it can definitely be fun to get your guests involved in taking informal shots throughout the wedding day so you can see your event through their eyes, it's important to seriously consider whether these are the only photos you want to walk away with.
Your wedding will last only one day, but your wedding photos will be with you for a lifetime and possibly beyond when you pass them onto your kids.
With all the time and financial investment couples make to create the perfect nuptial celebration, it would be a shame not to capture it in the most thorough and professional way.
That's why we try to encourage our clients to invest in an experienced, talented photographer and reduce photo costs in other ways.
One idea to consider is taking the physical photo album into your own hands. By taking on the design and logistics of creating your own wedding album with a company like BrideBox, you'll eliminate this labor cost with your photographer while still getting a gorgeous keepsake of your wedding day.
Stress or Stress Free?
Be realistic as to how much work you really have time to do, and want to do yourself. What is your time worth to you? Are you working full time or attending school, and how much extra time do you have to spend planning your wedding on top of your busy schedule? Choosing a venue with more "all-inclusive" services and items that YOU value can minimize your stress immensely. Look for venues that give you more for your money, and give you guidance so the process is a stress free experience.
Décor Reality Check
If you want gorgeous centerpieces, lots of candles, ironed linens, gorgeous lighting and more, the first thing you should ask a venue is how much time you get for set up. Find out who does the set up, what your florist or designer will charge to do the centerpieces, what the venue includes for you, and what you may have to do. Did you know that to set up a gorgeous platinum wedding for 100 guests can take up to 40 man hours to create or more. If a venue gives you 2 hours of set up time and one hour of tear down, you have to determine how many staff members it will take to achieve the look you want in 2 hours. In addition, if tear down is only one hour, you will have to hire that staff to come back at the end of the evening to tear it all down in an hour. Finding a venue that does not rush you in and out can make all the difference in your stress level and the type of look you can actually create.
The wedding budget
Whether your budget is large or small, your main objective is to get the most value out of the dollars you have to spend. If you and your fiancé are paying for your own wedding, setting the budget should include every little detailed item you need to buy or hire for the ceremony and reception. Often, however, the bride or groom's family is involved in paying for parts of the wedding. In this case, you should probably sit down with your parents and have a discussion about the wedding budget, and what they can contribute.
My advice is to do your TOP FIVE things really well and put your money into hiring or buying those items first. Secondly, get a very clear idea of what all of the other items cost and prioritize from there.
Whatever your preference, decide on these things together, and determine what you're willing to invest in and what can be cut back.
Elisabeth Montoya – Lead Designer / Co-owner – The Bella Sera Event Center