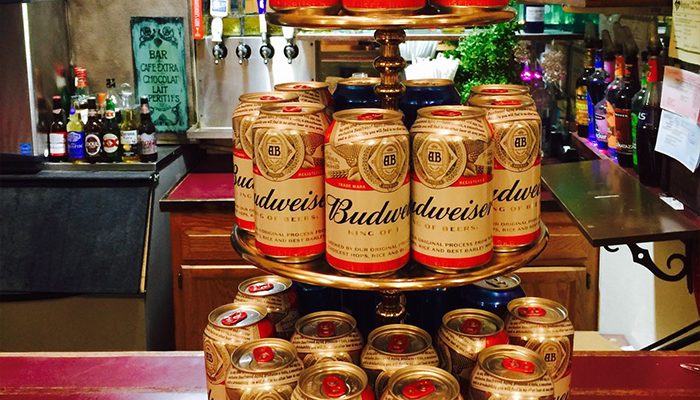 Fun Beer Can Wedding Cake for Groomsmen
What's the purpose of a Beer Can Wedding Cake you ask?
Well, weddings are a celebration for everyone involved, and we all know that most guys like to have fun sharing a beer or two when they all get together. So why not offer them their favorite canned beers in the shape of a wedding cake on your wedding day?
This is not to suggest for the guys to get drunk before the ceremony begins, just a celebratory beer presented in a fun and unique way while the groom gets ready with all of his closest buddies or siblings.
There are so many creative ways to incorporate fun into your wedding, and this is one idea that is always a hit with the men. When the groomsmen arrive, the groom will have purchased the Beer Can Wedding Cake from the bar and will have it waiting for them in their Dressing Room. Just watch their reactions when they see it; they love it!
Whether it's Budweiser, Coors, Premium Beers, or non-alcoholic drinks, we create fun, personalized beer cake toppers too that will instantly have your groomsmen cheering, taking photos and enjoying the creative kickoff to a wonderful celebration.
This is just one of the many ways The Bella Sera incorporates original ideas to help our couples personalize their wedding and increase the enjoyment with a fun element of surprise for the guys.
Cheers!
Written by Elisabeth Montoya – Co-owner and Lead Designer for The Bella Sera Event Center