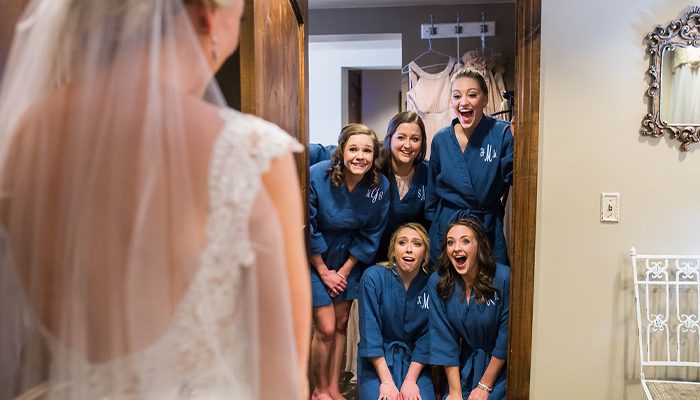 Considering Bella Sera? See What Real Life Bride Rebecca Had to Say!
Interested in booking a wedding with the Bella Sera, but not sure what the experience will be like? We've got you covered. In today's blog post, we've looped back with one of our favorite 2016 brides to get her take on planning a wedding with the Bella Sera. She goes into every little detail you might be considering and lays out exactly how she planned the perfect night for her guests! This interview will help you decide what important "wow" factors you should consider, and which you could leave off your list to make your budget stretch!
Meet Rebecca, a 2016 Bella Bride. Her and her husband, Andrew, found the Bella Sera in the Wedding Sites and Services publication. After reviewing our website, viewing our venue, and comparing us against Denver's other wedding venue options… they were sold on the Bella Sera. "The competition didn't even come close," Rebecca shares with us. "While other venues have beautiful building and would have been great for photos, the amenities and care we experienced at the Bella Sera were miles ahead of the experiences we had at the other venues – and that was just while touring!" Here's a full look at our interview with this beaming bride:
Bella Sera: When was your wedding at the Bella Sera and how many guests did you have?
Rebecca: Andrew and I had our wedding on February 26th, 2016! Since we are originally from Dallas, we had a small "destination wedding" – I believe the final guest count was just over 100! Our guests loved having the opportunity to come up for our wedding, then head to the mountains for a weekend of skiing and enjoying the snow.
Bella Sera: Why did you choose a Winter Wedding?
Rebecca: We loved the idea of doing something a little different. We also knew we were asking our guests to travel to our wedding. Choosing to do it outside of peak wedding season meant that more guests would be available to come – plus they could get away for the weekend and hit the mountains after! It was a win-win for everyone. Andrew also really wanted a "Black Tie" themed wedding, so wearing a tux in the middle of winter made it way more comfortable for our guests! I wouldn't change either of those decisions for the world… We had the best wedding and everyone getting dressed up made it that much more fun for our family and friends!
Bella Sera: Which Bella Sera wedding package did you choose?
Rebecca: We had a Bellissimo wedding. The decoration upgrades were exactly what we were looking for. Originally, I had considered pricing for planning our wedding at another venue and the table décor alone was going to KILL our budget. Have you looked at the cost of charger plates? It seemed silly for us to buy them! That's why, when we found the Bella Sera, we knew it was exactly where we had to have our wedding. The savings from having everything offered from one place was monumental! Oh- and let me tell you… the decorations were not cheap looking – THEY WERE GORGEOUS!
Bella Sera: Tell us a little bit about you and Andrew…
Rebecca: Okay! Andrew and I met in college, a little over 5 years ago. We were 26 when we got engaged and started searching for wedding venues. Both having full time jobs in Cooperate American, the idea of planning a wedding was really stressful for us. We love to dance, spend time with friends, and live for good food/wine! We recently purchased a home in the Denver area and love heading up to the mountains for a weekend of skiing.
Bella Sera: Who paid for your wedding?
Rebecca: I'm sure you see this more and more, but Andrew and I paid for our own wedding. Our families helped with small donations (and Andrew's father and step-mother picked up the rehearsal dinner bill), but for the most part, it was just us. I was so grateful for this experience – because it made us carefully consider every purchase and appreciate how far our dollar could stretch with the Bella Sera. Their packages were so affordable and we were able to have an amazing wedding with lots of "WOW" factors, without breaking the bank.
Bella Sera: The Bella Sera event planning process is different from most venues; how would you say the experience was?
Rebecca: I had heard nightmare stories from girlfriends who had planned weddings before me… all the tiny details, late nights decorating center pieces, forgetting something at the house the day of the wedding… So, needless to say, I was a little nervous to be doing it myself. I was so relieved after walking through our tour at the Bella Sera to learn our wedding could be planned in just 3 meetings with their professionally trained staff. I never once stressed about a decision, whether set up/clean up would be on me, or felt like "they didn't get me." The planning process was one of my favorite steps, especially the décor design session! The decorations turned out BEAUTIFULLY and the room was exactly what I had pictured in my mind… and I didn't have to set up or clean up. Geez, I feel bad for other brides sometimes!
Bella Sera: Did you have a happy hour/open bar?
Rebecca: We did! We had smoking cocktails during the "Happy Hour", while we were taking pictures. They were worth EVERY PENNY. Our guests loved them and I still hear about them today! We also chose the open bar beer/wine/wells package. Again, the prices at the Bella Sera are so reasonable we couldn't have possibly offered comparable selections anywhere else for that price. I would 100% recommend the Bella Sera for their party beverage packages any day!
Bella Sera: Who was there the day of your wedding, while you were getting ready?
Rebecca: I chose to keep that group small and intimate. My mother was there, of course, and my bridesmaids. Andrew was the same way – he just wanted his groomsmen there! It was such a special time for each of us and we had a blast chatting and enjoying the company before the big event. The Bella Sera served the girls mimosas, and the guys an awesome "Beer Tower" filled with Andrew's favorite beer.
Bella Sera: What was your favorite part of your wedding?
Rebecca: That's a hard one! Really, I loved each and every segment of our day. Getting ready with the girls was special. Nothing can compare to the moment I walked down the grand staircase and met eyes with Andrew for the first time. Seeing our reception romantically lit was magical. And dancing the night away to our live band was a blast! It was perfect in every way.
Bella Sera: What was your guests favorite part of your wedding day?
Rebecca: Guests loved the smoking cocktails, the layout of the reception (it was easy to get everyone dancing!), the delicious food, and the décor. I heard several times throughout the night that it was the best wedding they'd been to yet. I can't tell you how much that means as a bride… you want it to be the best, most fun night your guests have ever had and the Bella Sera made that possible for us.
Bella Sera: What is one thing you wish you would have done that you left out?
Rebecca: I wish we would have rented the photo booth. I have so many great pictures from our receptions, but making a book of our guests from start to finish would have been an awesome keepsake!
Bella Sera: Which of our vendors did you use?
Rebecca: We basically used only Bella Sera vendors. The only vendor we chose to seek externally was our live band. Andrew and I really wanted prohibition era live band for the dinner music, and my cousin preformed the vocal for our first dance, so that was a must for us to find the perfect ensemble. Other than that, we used Bella Sera vendors for our cake, photography, transportation (HIGHLY RECOMMEND THEM!), florist, and more! It was such a breeze making decision and they handled all the planning.
Bella Sera: And last, but not least, would you recommend us to others?
Rebecca: ABSOLUTELY. I would tell anyone looking go somewhere else they were crazy. The Bella Sera is so much more than a venue… They care about their couples, put their everything into making sure your day is perfect, are more than affordable, and are just simply amazing. A wed
ding anywhere else will be stressful and is uncharted territory for a novice event planner. Go with the experts – you won't regret it!