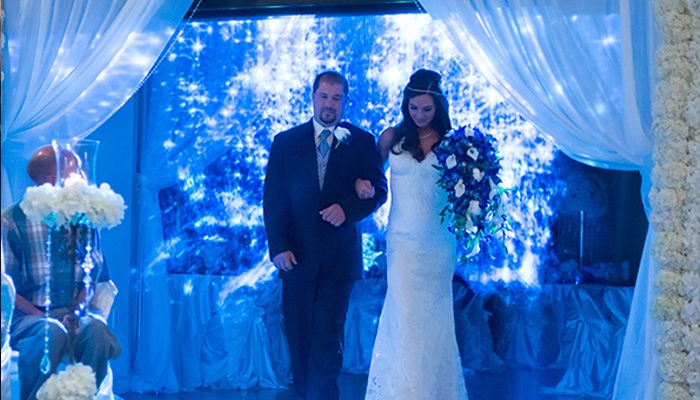 The Most Dramatic Brides' Entrance Ever
Bella Sera Creates Magical Weddings with a Wall of Fog.
It's the "experience" that matters most!
The bride and groom, and their guests will remember what they experienced far more than what they saw or heard at their wedding.
It's hard at the beginning of the planning stages for a couple to imagine how everything is going to come together on their wedding day. What's even more challenging is how to ensure the guest experience is incredible, and everyone has a great time and will remember it forever,
Every couple wants to be a great host and hostess for their guests, after all, this is the biggest party they have ever planned or hosted in their lives. The bride and groom have a unique love story to share and celebrate, and they want to create the type of wedding celebration that their guests have never seen or experienced before. That's where The Bella Sera design team and event experts excel the most. Our pros know what it takes to create and execute that "experience" they want, and it's not enough to just play great music and create beautiful surroundings.
You have to WOW your guests. This can be created and executed in many ways. The WOW factor doesn't have to always be something over the top, but what if for your wedding it was? What if there was a wall of thin fog that floated images or video in mid-air, and the bride could dramatically appear and walk through it making the most dramatic entrance ever seen? It's that one moment that both the bride and groom dream about…the moment he sees her for the first time. That's why The Bella Sera is one of only a dozen companies in the United States to own a FogScreen so we can create the most dramatic and interactive experiences for our couples and their guests. Guests are mesmerized and captivated by this special effect, and they constantly comment "I've never seen anything like this in my life".
Bella Sera's FogScreen is used for dramatic ceremony entrances, fun cocktail hour interactions, the grandest grand entrances, and lots of fun during the party segment of the celebration.
The possibilities are endless.
If you're the kind of couple who wants something that is truly a one-of-a-kind experience, Bella Sera has dozens of unique and creative tools to help you deliver the unimaginable at your wedding. Check out our weddings page for more ideas.
Our goal is to touch the hearts of our clients and their guests with celebrations they never imagined were possible, and to leave them with memories they will never forget! 
Bella Sera
Venue: The Bella Sera Event Center
Décor & Design: The Bella Sera Design Team
Bride & Groom: Mekella & Jake 7-26-14 Wedding Celebration
Technology: Bella Sera's FogScreen®
Photography: Mark Alison Photography
Video: Adam Fusion Films