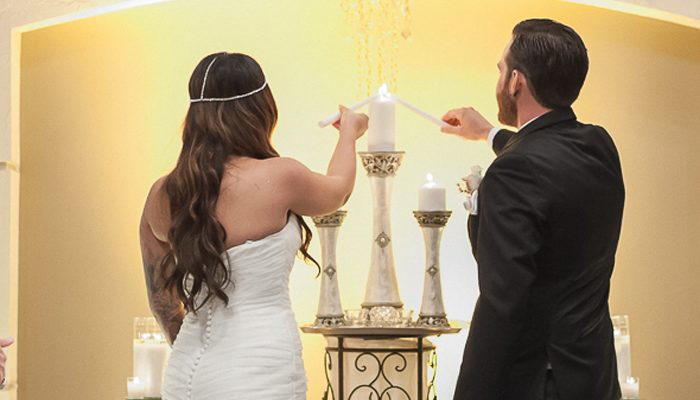 Unity Candle Ceremony
There are many types of unity rituals that can be part of a wedding ceremony; each one is beautiful and meaningful in its own way. At the Bella Sera we have seen many types of ceremonies, Sand Ceremonies, Hand Fastening, a Love Letter Box, a Fisherman's Knot, a Salt Covenant, a Unity Candle and many others that were very unique and charming just like our couples! This week we wanted to shed some light on the significance of the Unity Candle Ceremony.
The Unity Candle Ceremony involves two taper candles and a large pillar candle, the Unity Candle, in the center. At the beginning of the wedding ceremony, a representative from each family lights the two taper candles, generally this is the mother of both the bride and the groom. It is a wonderful and significant way to incorporate them into the wedding ceremony. Later after the formal vows have been performed, the bride and groom use the two taper candles to light the large unity candle together. The two outer candles represent the bride and grooms individual lives before the day of their wedding. They represent all of their past experiences and each of their individual families. The lighting of the Unity Candle represents all of those experiences and lives joining together as one.
Some couples choose to have a specific song playing during the Unity Candle Ceremony, one that is representative of the joining of their two lives. Alternately couples can choose to have the meaning of the Unity Candle Ceremony explained to the guests as they light the candle.
It is not uncommon for the bride and groom to save the unity candle, which is often beautifully decorated, and relit it on their anniversaries.
There are so many different types of unity ceremonies that can be part of a wedding ceremony; we feel that it is truly important to understand the meaning and significance behind each one! Stay tuned in weeks to come for more information on these beautiful and creative ceremonies!